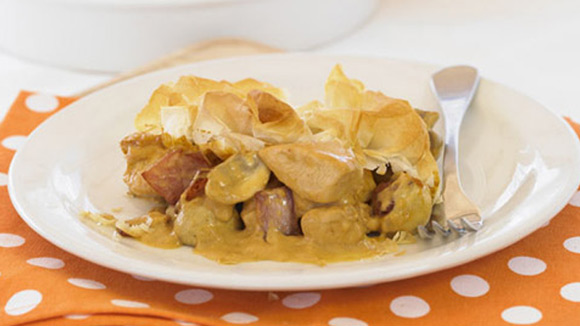 INGREDIENTS
2 teaspoons sunflower oil
500g skinless chicken breast fillet, cut into 2cm pieces
2 bacon rashers, thinly sliced
2 cups halved button mushrooms
1 packet Continental® Creamy Mushroom Chicken Recipe Base
1 cup (250ml) water
¼ cup sour cream
4 sheets filo pastry
1 tablespoon Flora® Original spread, melted
Fresh salad for serving
DIRECTIONS
Preheat oven to 180ºC.
Heat oil in a large fry pan, add the chicken and bacon, allow to brown 1-2 minutes before adding mushrooms, cook a further 3-4 minutes. Combine the Recipe Base with the water and add the chicken, bring to the boil, reduce heat and simmer for 10 minutes, or until the chicken is cooked through. Stir through the sour cream.
Spoon chicken into an ovenproof dish, loosely ruffle the filo over the chicken to cover and brush with melted Flora. Bake for 10-15 minutes or until top is lightly golden.
This chicken pie recipe goes well with a fresh salad.